Hot Zone-Cold Zone Cell: 

New Al effusion cell for AlN & AlGaN growth 
Please contact us to find the best suitable model for your needs: webrequest@episerve.de

# Prevents the formation of the very low vapor pressure aluminum nitrides on the crucible walls
# Extra negative temperature gradient
Very long term flux stability and perfect day-to-day reproducibility
# Two independently heated and cooled zones
# Easy to install on all MBE systems (several models available)
# Only one power supply
# Uses the well known low cost PBN crucibles
# Increases the useful capacity of Al cells
Temperature gradient along crucible height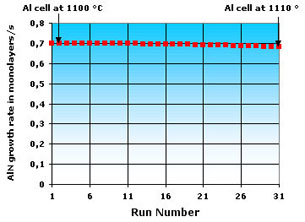 This curve shows the AlN growth rate evolution versus run number. It illustrate the run to run reproductibility of the Aluminium flux. After 31 runs, the Al flux is modified by less than 2%. (Here a small 25 cc capacity crucible was used.)
(31 runs are equivalent to approximatively 12 µm of growth)
The Al cell was used to growth Al 0,13GaN/GaN MQWs.
(Courtesy of CHREA Lab Valbonne)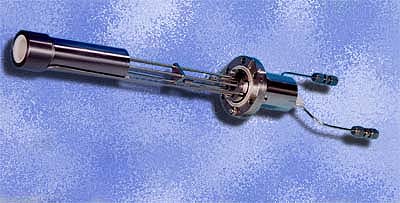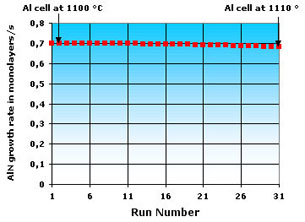 This curve shows the AlN growth rate evolution versus run number. It illustrate the run to run reproductibility of the Aluminium flux. After 31 runs, the Al flux is modified by less than 2%. (Here a small 25 cc capacity crucible was used.)
(31 runs are equivalent to approximatively 12 µm of growth)
The Al cell was used to growth Al 0,13GaN/GaN MQWs.
(Courtesy of CHREA Lab Valbonne)
Aluminium evaporation under Amonia and Nitrogen

The use of ammonia as a nitrogen precursor to grow Aluminum Nitrides and AlGaN by MBE is a very promising and powerful technique. Conventional, Standard and even "Cold Lip effect" effusion cells are not adapted to work in an ammonia or Nitrogen gas environment. Ammonia or N reacts with Aluminum at the crucible mouth and produces nitride compounds. This induces a creeping of the Aluminum melt. Overflow of the molten charge is then observed. This phenomenon occurs quickly and prevents use of a conventional aluminum cell for more than a few runs. Several groups reported aluminum crucible breakage and cell disintegration under these conditions.
Design
The ADDON cell uses two distinct thermal zones, the zone at the bottom of the crucible is heated by radiation while the zone at the tip of the crucible is cooled down by thermal transfer to a water panel. This allows a larger temperature gradient than a typical ''cold lip'' design. Many users of this new Al cell have reported a far better ease of use and better results. The flux stability and run-to-run reproducibility is greatly improved. Aluminum cell temperature idling between runs is generally not possible when ammonia is used in the MBE, as the ammonia pressure is much too high if the cryocooling is stopped. Aluminum cell cooling is then the only solution, the New Al cell can be room temperature cooled every day and reheated without trouble.