Cold-Lip-Cell: 
Please contact us to find the best suitable model for your needs: webrequest@episerve.de


* Reduction of Al overflow
* Increase of Al charge
* Optimized beam reproducibity & stability
* Hot Zone designed for materials wetting PBN
* Compatible with most MBE systems
* Optional integrated / cooling shutter
* Wide range of crucible capacities
* Inserts and special configurations
* Modular design
* Double thermocouple
Temperature Gradients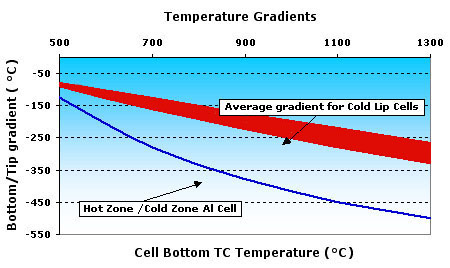 The curve illustrate the "Cold Lip" effect generated by the bottom only filament cells and the Hot Zone / Cold Zone Addon design.
Crucible:
Experiments show that crucibles with low tap angle are more resistant to dilatation forces encountered during the aluminum solidification process. If possible, it is better to use, therefore, a non conic-shaped crucible equipped with an insert to establish a homogenous and uniform beam.
Compatibility:
The cell is available in models fully compatible with existing systems manufactured by Varian, VG, EPI, Perkin-Elmer, Ulvac, Anelva and Riber. Other versions are available on request (please provide us with flange size, connecting tube I.D. and in vacuum length).
Thermocouples:
The cell is equipped with a double thermocouple. The C type (W/Re) is standard. Others are available by special order.
Integrated shutter:
An integrated shutter mechanism can be fitted on most of the cells described here.
Operation

Evaporating aluminum with a standard effusion cell presents several shortcomings. In wetting the crucible, aluminum can overflow and sometimes break it (in contrast to other group III ELEMENTS THE VOLUME OF ALUMINUM EXPANDS WHILE SOLIDIFYING). Whilst the user can reduce the chances of such an eventuality by drastically decreasing the aluminum load in the crucible it is not an ideal solution.
To solve these problems, ADDON has developed a "cold lip" cell, specially designed for such materials. In these cells the aluminum load can be increased with the risk of breaking the crucible greatly reduced.
In these cells, heating is intentionally non uniform in order to maintain a negative temperature gradient between the bottom and the lip of the crucible. Experiments show a strong decrease in observed aluminum wetting and overflow.
This is a result of the special geometry and heating pattern of the hot zone combined with the heat shielding of the cell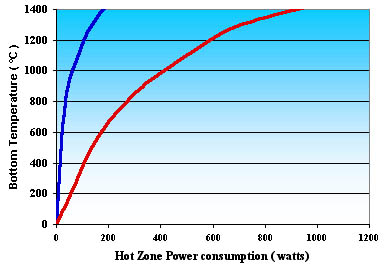 Integrated cooling circuit:
If necessary a water cooling circuit can be integrated on most of the cells described here.
VG compatible cells include the cooling circuit as a standard feature.
Specifications
Filament: 1
Maximum 0perating temperature: 1 400 °C
Maximum outgassing temperature: 1 600 °C
Temperature stability: better than +/- 0.1 °C
Thermocouples: Double type (W Re 5/26%)
Minimum mounting flange: for crucible capacity 25 35 40 58 ccm 35CF / 70mm / 2.75", for crucible capacity 60 70 85 125 150 ccm 63CF / 114 mm / 4.5", higher capacities on request
In-vacuum diameter: Crucible O.D plus 0.2 mm
In-vacuum length: 200 to 400 mm. (other on request)
Temperatures / power consumption: See curves
Power supply: connectors System or ADDON via universal UNIPLUG
Options: Other types of thermocouples, integrated cooling circuit, integrated shutter, inserts